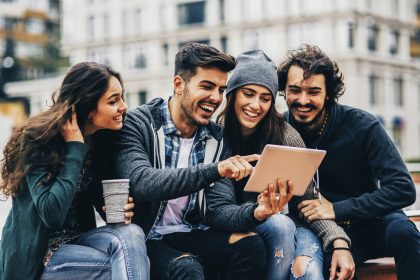 I'm wise enough to have witnessed several work-related revolutions in my time. I've seen trends change, information being created at an astonishing rate and generations being transformed by data.
Yet no change was so abrupt as the one that came about with the millennial generation. Born between the early 1980's and early 2000, this generation has completely transformed the way technology is shaping our entire species. They have witnessed the analog world, the dotcom boom and the rise of artificial intelligence. Moreso, they have taken Moore's Law and made it obsolete within a decade. So it's safe to say that millennials have basically changed the world in a single generation.
Whether you agree with this or not, technology is what saved the planet. Ironically, it's what might destroy it too with the rise of unsupervised AI—but that's totally debatable.
Data and creativity
The curious thing about millennials is that they are inherently creative, even more so then their parents. And this clearly translated into the work they have done in technology, as more standards and solutions for the same problem have been developed by the thousands.
Normally, this is not a bad thing. Competition is healthy, innovation is what drives us forward and information must flow in order to evolve. Yet when the solutions space gets crowded, the benefits are quickly outweighed by the potential issues. I believe this creates even more problems on the long run.
Not once have I see a client of ours use several systems that do the same thing only because they only do a good job on one of the key points of a clients' business, while others are best for some totally different aspect.
Far from me to blame developers or solution architects for coming up with different solutions or approaches to the same problem. Millennial tech people in particular need to insert art into their work and I totally understand and respect that.
It used to be that the tech company with the best salespeople used to dominate the market. Nowadays, it's coolest one, the most hip and the one that offers the best "feeling" to the customer—and not necessarily the most efficient one.
Seems like this is the status quo—the result of art in technology in the age of millennials. As a result, the Facebooks, Apples and Googles of the world are dominating technology. Not the IBMs, Microsofts and Oracles. (I'm using the plural as to relate to their company cultures an the way of doing things, not necessarily innovations).
Conclusion
In a world dominated by millennials in tech, information and data has taken their shape after them. And I wholeheartedly embrace this new world, as it creates opportunities for us to become even better what we do best: dealing with data exchange in an ever-expanding crowded world.
If you want to learn how our best-in-class data management solutions can help you navigate this brave new world, get in touch. We've specialized in delivering real-time data exchange solutions for the hospitality, insurance and travel markets.