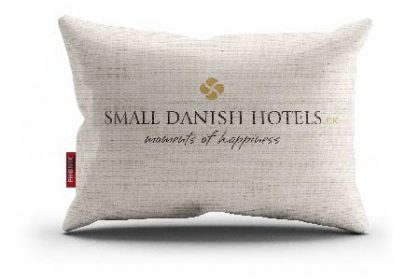 As we are ramping up GSB for the spring of 2018, here at Gloobus we look back on some of our most satisfying successes in helping small and large companies alike to succeed and help them grow their businesses by way of efficiency and automation.
One such case that is very dear to us and close to our hearts is the one of Small Danish Hotels.
A little bit of history
Founded in 1981, Small Danish Hotels (SDH) is the largest hotel chain in Denmark, consisting of approximately 80 privately owned inns, hotels, castles and manor houses scattered throughout the country.
Known as Danske Kroer & Hoteller until 2012, the association's main goal is to attract guests to their member's small, selected inns, hotels, castles, and manors, which are full of charm, intimacy, and warmth. What they all have in common is the attention to personal service and being good hosts.
As described above, SDH is not a single property company, hence operating the chain is much harder and requires more insight than a regular chain. And especially when talking about tech and the IT infrastructure, managing such an entity is a unique undertaking.
A personal approach to a GSB success story
In order to learn more about the particularities of SDH's technical side, we've sat down with Morten Nielsen, IT manager of SDH and asked him to share some insights on how SDH's relationship with Gloobus came to be, what are the challenges of the area his managing and how we managed to help.
In the following paragraphs we'll depict some key aspects that Mr. Nielsen shared with us.
Mr. Nielsen main activities include making sure that the company has all the data needed to run daily operations, to oversee processes and to ensure things work smoothly in his department. He says that there is no typical day and every day presents a new type of challenge, which he gladly manages. He's also involved with getting SDH GDPR-compliant.
He works with business intelligence, visualizes all data, does forecasts and set targets.
One big part of Mr. Nielsen's activities is finding and integrating new technologies whenever the situation dictates—and one such situation presented itself when they initiated a loyalty program, which was dependent on getting data from a lot of customer royalty systems (CR). This situation was incredibly hard to manage, and all of the specialists that were consulted reached the same conclusion: A databus was needed, as doing things manually was no longer feasible.
This was a decisive factor and when Gloobus presented the Gloobus Service Bus (GSB), a middleware that handles any data from any format and pushes it to anywhere in the world, in any format, in near-real-time, the choice was obvious to go with the GSB, as such strategic decisions are clear winners in a company's technology strategy.
One fun fact to remember is that no sales pitch was needed, as the value proposition was so obvious—this is a thing that both Mr. Nielsen and Mr. Burbure de Wesembeek, CEO of Gloobus remember well.
Thus, the decision to use GSB was approved and accepted quite easily—and nowadays it's quite easy to forget that there is an instrument in the middle that helps SDH do their work in the implemented areas in a faster and more efficient way; today there are processes that wouldn't even be possible without the GSB, and for that reason Mr. Nielsen and his team are very satisfied with it—it's invisible, but they all know it's there.
 Future plans
Talking about the future, Mr. Nielsen said:
"If we look a few years ahead, I believe that the GSB will cover most of our data stream, in terms of where it comes from and where it goes, in terms of exchanges, loyalty programs and much more. GSB is an exceptional tool that takes care of very complex data flows for us.
I would love to stabilize all we've done so far, visualize what we do have, maybe continue getting into AI. I see a bright and prosperous future for the collaboration with Gloobus."
Summary
 Customer: Small Danish Hotels
Problem: Managing data flows from different solution providers in various formats, modifying data and pushing back in their respective formats.
Solution: Using a middleware to pull, interpret and push all the data, without having to develop a completely new system inhouse
Technical implementation: With the Gloobus Service Bus, a databus was introduced that transparently handles all data, without affecting any of the already deployed system and automates previous manual processes.
Satisfaction Level: Very satisfied
For more information on the Gloobus Service Bus, feel free to get in touch.