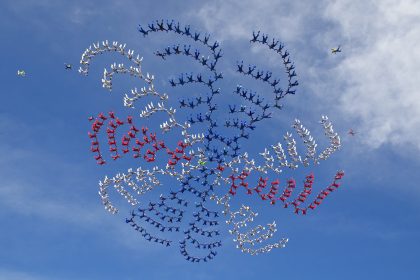 As Gloobus is a multi-national company, I travel quite a lot—both to meet up with customers, but also with my team.
The technical core of Gloobus is located in the lovely city of Târgu Mureș, in Romania (which I highly recommend you visit; I'll even be your guide!) and the guys there are particularly humorous, especially when it comes to me traveling there. For example Lehel—my trustworthy CTO, has a funny, yet dark way of letting the team know when I tell him the dates I shall be in Romania: "Yves said he'll be here on Monday, but I can't be sure he'll make it."
Funny thing is that there is some degree of truth to that, but probably not for the reason you'd expect. It's an internal joke that's been going around for a while, which I'm going to share with you.
You see, I've been into sports (and extreme ones nonetheless) for quite some time now. One of those is skydiving, which I'm sure you know involves quite a few risks, including of course, death. As you might have guessed, I really like living on the edge—but most of all, I enjoy living.
Apart from skydiving, I enjoy golf and triathlons. As in any sports, knowing where and how you stand is paramount if you want to improve and get better—one way of putting this is "you can't improve what you cannot measure".
Nowadays professional athletes, regardless of their sport of choice, are far better than the ones we could see decades ago. And while most of this improvement could be due to improved genetics and human evolution, I would argue that the most important factor in the improvement of sports performance is data. Pure, measured-down-to-the-millisecond data.
As time went by, we were able to measure more and more accurately the performance of athletes—just remember the wins by the fraction of a second in Tour de France! But since time is universal and cannot be manipulated (yet), there were people seeking more way to accurately measure performance and get more data out of athletes.
Speaking of Tour de France, I remembered a story about the British Cycling team. When Sir Dave Brailsford became head of British Cycling team in 2002, they had almost a poor track record: The British cycling team had only won a single gold medal in its 76-year history. That quickly changed under Sir Dave's leadership. At the 2008 Beijing Olympics, his squad won seven out of 10 gold medals available in track cycling, and they matched the achievement at the London Olympics four years later.
Sir Dave, a former professional cycler, applied a theory of marginal gains to cycling — he gambled that if the team broke down everything they could think of that goes into competing on a bike, and then improved each element by 1%, they would achieve a significant aggregated increase in performance.
Now, in order to improve by even 1%, you need data, and a lot of it. But most importantly, you need to make sense of it. And even before that, you need a way to properly gather and unify it.
I'm sure you've seen (or even used) activity trackers, smart scales, glucose meters or modern blood pressure monitors that pull information into various apps and platforms in order to give you an overall view of your health. There are a lot of manufacturers of smart devices out there—Fitbit, Withings, Apple and Garmin come to mind as the biggest ones.
Having all kinds of information about vital signs is important for both improving athletic performance, but also for health reasons. There was one case in which an Apple Watch saved a person's life after getting irregular heart rate data. So it makes sense that healthcare professionals and hospitals to rely on such data in order to improve a patient's health.
Which brings about the issue of getting all the data in one place, in a unified language/platform. Because when it comes to health, there's really no way you can afford to cut corners. After all, it's someone's life at stake.
And nothing is truly more important than our lives, using data to improve health and doing things that matter. And at Gloobus, our unofficial mission is to help the world use data for good and for the benefit of all mankind. And there isn't a more worthy ideal in my opinion than doing your own part in the evolution of mankind—and we contribute to that with what we do best: data exchange and data unification.
***
I believe that someday technology will be an inclusive part of our lives in a manner that it will be invisible to us; at the same time, it will lie at the core of everything that we do and we'll depend completely on it. It is said that the best User Experience is the one that you're completely unaware of. I would argue that the same is true for technology as well. And if time agrees with me, my team and my company, we'd like to have you join us along the ride in making the world a better, more connected place.