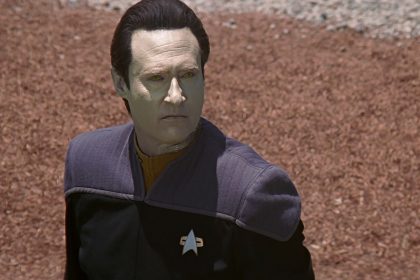 I'm gonna go out on a limb here and say that if your company doesn't have a data officer (already), you might be in for a tough ride for the coming years.
You see, when you put "data" and "officer" in the same sentence, most people think of, you guessed it, Officer Data. I can't blame them—the thought crossed my mind as well. The curiously weird android from the starship USS Enterprise can't possibly have anything to do with data officers, right?
Not quite—allow me to explain. As the ship's only Soong-type android, Data was in charge of rapidly gathering and analyzing data, passing the result to his superiors and help them make decisions. And when you're faced with interstellar flight, thousands of people and even unforeseen events and threats from a plethora of sources, having the right system in place to get the best of results is not only crucial, but in many cases, literally life-saving.
Similarly, I could argue that beyond the scope of an analyst, companies nowadays, especially the ones that rely heavily on data—insurance, hospitality, travel, rental and of course IoT companies—should hire a Data Officer.
This Data Officer is in charge of making sure that data flowing in and out of the company is:
safe
accurate
secured
homogenous
instant
within scope
making sense
Presently, and not accounting for overlaps, this is the job of either a CTO or a CIO—yet in larger organizations, these two positions have much broader plates to deal with, hence the necessity of having a Data Officer.
Quite frankly speaking, the CDO (Chief Data Officer) is a highly regarded position in Fortune 1000 companies, where gathering data often required going through the IT department, putting in a request and waiting for days, weeks or even months for data to be available for non-technical people. The CDO and his team solve this problem by seamlessly integrating data exchange solutions that don't take up valuable time from the IT department and serve whomever needs that data, whenever, on any device needed.
As it matters to happen, we help out CDOs, CTOs and CIOs in their quest to solve their data exchange-related challenges more and more often. Our GSB—The Gloobus Service Bus—was built exactly with them in mind in order to help them transfer, transform and exchange any kind of data, in absolutely any format, in real time, all across the globe. (and quite possibly out of orbit too!)
In the following months we'll share some never-before-seen case studies regarding our implementations of GSB for companies in various industries and showcase how we help them seriously cut costs, save time and innovate—all in one go.
And if in the meantime you'd like to find out more about what we do and how we do it, let's get in touch and see what we can also do for you!
For the hardcore fans of Star Trek out there: I know that Data rank was a Lieutenant Commander—but his position on the ship was that of Chief Operations Officer.