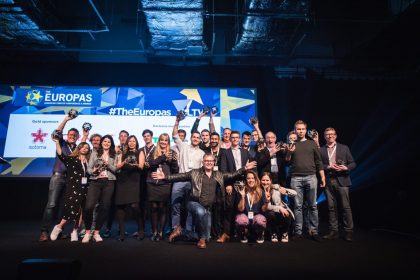 Every now and then I go to conferences in order to get a fresh (and different) view of what's new, interesting and innovative in the world of technology startups.
I do this for a number of other reasons too—the main one being that I want to keep Gloobus relevant for years to come and act even more agile in terms of what we develop and how we serve our customers.
Some say that startups are disrupting whole industries and that older technology companies are poised to play catch-up. But if you ask me, that's only true if you're not reinventing yourself when the need arises and most importantly, don't work with startups or support them.
Talking about support, one little known fact is that our office in Targu Mures houses one of most well known hubs and coworking spaces in the region, InnoWork. Here, technology startups and likeminded people work day in and day out, events like Startup Weekend take place and overall, where a vibrant community builds extraordinary things.
Speaking of startups, one of the biggest startup events in Europe, aptly named The Europas has jus honored the best tech startups from the region. I'll list the categories and their winners below, as described by TechCrunch:
Media/Entertainment Startup: Jukedeck
E-commerce/Retail Startup: Trouva
Education Startup: Kahoot
Startup Accelerator: Entrepreneur First
Marketing/AdTech Startup: Lobster
Games Startup: Space Ape Games
Mobile Startup: Grabble
FinTech Startup: Revolut
Enterprise, SaaS or B2B Startup: OnFido
Hardware Startup: Elvie
Platform Economy / Marketplace: Uniplaces
Health Startup: Babylon Health
Cybersecurity Startup: Ravelin
Blockchain/Crypto Startup: Setl
Travel Startup: GetYourGuide
Internet of Things Startup: relayr
Technology Innovation: what3words
FashionTech Startup: Thread
GreenTech Startup of The Year: Podpoint
Tech For Good: WeFarm
Fastest Rising Startup Of The Year: Improbable
Hottest A.I. Startup: Benevolent.ai
First of all, congratulations to all startups that have been nominated. I know personally it takes a lot of grit to make it in the technology world and just being on an exclusive list means that all that hard work is starting to pay off.
Second, it makes me think about the volume of data that all these startups have to deal with, but most importantly, how they manage it. And how managing that data can (and will) mostly make or break their business. Because as diverse as data it is today, it's nothing compared to data that will be generated in the coming years—and that will absolutely have to circulate in real-time.
That is a world that we're thankfully prepared for with our GSB—the Gloobus Service Bus.
But more importantly than that, we're fully prepared and equipped to help startups succeed. Because we are committed to the success of all our customers.