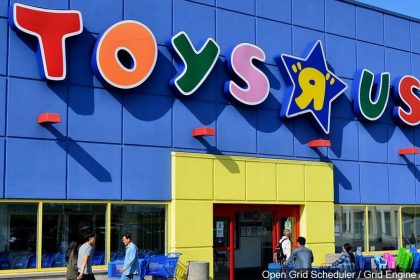 As time goes by, so do big brands—and what is the most bothersome is the fact that many large companies fail not because they do something wrong, but because they don't do something different: they don't adapt to the times they live it.
One of the common misconceptions about one of the largest failures in modern history—the one of Kodak—is that they missed the digital age and remained anchored in the past. There's nothing further from the truth actually: Kodak invented the first digital camera in 1975, longe before competitors. Where it failed though was marketing: they feared that by promoting their new technology they will hurt their existing film business. Ultimately, this decision killed both.
And now another big name joins the hall of the unadapted failures: Toys'R'Us. Once the largest toy retailer in the US and with a prominent footprint all over the world, TRU failed to do two things: First, they allowed the company to accumulate a huge amount of debt through the leveraged buyout of 2005;
It was over 30 years ago when financiers discovered they could buy a company, sell off some assets and otherwise increase the company's cash, then convince banks and bondholders to load the company with debt. These financiers would then pull out the cash for themselves, and leave the company with a ton of debt. The LBO (leveraged buy out) was born, invented by investment bankers like KKR (named for founders Kohlberg, Kravis & Roberts.) They would use a small bit of private equity, and then use the company's own assets to raise debt money (leverage) to buy the company. By "restructuring" the company to a lower cost of operations, usually with draconian reductions, they would increase cash flow to make higher debt repayments. Then they would either take the money out directly, or take the company public where they could sell their shares, and make themselves rich. This form of deal making birthed what we now call the Private Equity business.
and second, they almost completely ignored online marketplaces and the competitors they have there. And for a company that especially deals with a single niche, ignoring the new options on the market and failing to adapt to them or even worse, embracing them is almost in all cases a death sentence—a long, and painful one.
Companies that work with niche products, such as travel, insurance or specific retail need to acknowledge that every new opportunity is one worth exploring—and marketplaces are such an opportunity. By now, many Business Intelligence Officers are aware of marketplaces and we here at Gloobus are no stranger to them.
And thus, having 25 years experience in the travel market, as well as in many data exchange verticals, we're creating marketplaces for these industries, starting with travel. So if you're interested in getting onboard in the early stages (early users will have a lot of benefits), let's talk.
I'm sure that this is one opportunity you will congratulate yourself for taking.